765 caregivers were surveyed by CareAcademy and SNHU to assess and understand the difficulties that caregivers face when considering more education
CareAcademy, a leading provider of online professional development, training and certification for professional caregivers, in partnership with Southern New Hampshire University (SNHU), today released the findings of its first joint survey entitled Educational Aspirations of Home Care Workers. This survey sought to understand the educational goals of in-home caregivers including their preferences and barriers to continuing education.

Home care and direct care are some of the fastest growing service work in America and will continue to be for the next 20 years. The survey was CareAcademy's first effort in asking caregivers if they want more education and upskilling, and in what form they want an education.

"We're excited and optimistic about the results because this is caregivers saying, 'given the opportunity, I want to be better at my work.' This may very well be the answer to enticing new caregivers to enter the field and helping caregivers remain and grow in healthcare and direct care," says Helen Adeosun, CEO of CareAcademy. "SNHU's unique focus on students that look a lot like our caregivers was impactful in the groundwork for this survey."
CAREGIVERS' EDUCATIONAL ASPIRATIONS VARY ACROSS DEMOGRAPHIC LINES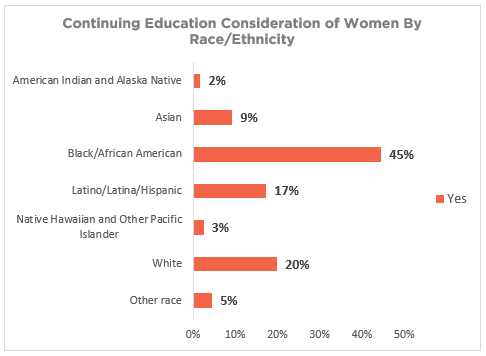 Gender and Race Differences
Roughly half (52%) of all respondents said, "yes" they are considering obtaining more education in the future and that percentage remained consistent when comparing gender.
When comparing the ethnicity of the same caregivers, our study found that the top three groups interested in furthering their education, were Latino (57%), Native Hawaiian/Pacific Islander (56%) and African-American (55%).
45% of African-American women are considering more education followed by 20% of White women and 17% of Latina women.
Age Differences
When comparing age groups using the average age of 45 years, caregivers 45 years or younger were more interested in educational pursuits than their older counterparts. Even a one-year increase in a caregiver's age decreased the odds by 4% that they would consider additional education.
Household Income Differences
54% of caregivers with a household income of $35,000 or less were more likely to pursue additional education.
48% of caregivers with household income levels between $35,000 - $100,000 were more likely to pursue additional education.
31% with income levels of $100,000 and above were more likely to pursue additional education.
Barriers to More Education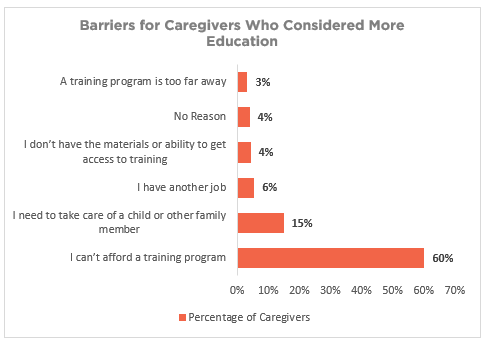 52% believe obtaining a bachelor's degree would be more valuable to their profession, but 37% said they
would be willing to pay for it. 50% said a CNA certification would be the most valuable, but 39% said they
would be willing to pay for it.
60% of caregivers said that affordability prevented them from pursuing a higher education.
15% of caregivers cited caring for a family member as an impediment and 6% said their other job served as barrier.
"The results of this joint survey reinforce how important it is to create degree programs that help working adults, like caregivers, further their education," said Paul LeBlanc, University President, SNHU. "This survey reveals that caregivers across the U.S. have a desire to learn, and that they need the kind of on-ramps to education that providers like CareAcademy and SNHU offer. We put our loved ones in the hands of caregivers. We ought to put educational opportunity in their hands as well."
The survey was administered to 765 CareAcademy and CareLinx users of the CareAcademy platform via an online questionnaire fielded from October 2017 to December 2017.
About Southern New Hampshire University
Southern New Hampshire University (SNHU) is a private, nonprofit institution with an 85-year history of educating traditional-aged students and working adults. Now serving more than 85,000 students worldwide, SNHU offers over 200 accredited undergraduate, graduate and certificate programs, available online and on its 300-acre campus in Manchester, NH. Recognized as the "Most Innovative" regional university by U.S. News & World Report and one of the fastest-growing universities in the country, SNHU is committed to expanding access to high quality, affordable pathways that meet the needs of each student. Learn more at www.snhu.edu.
About CareAcademy
Boston-based CareAcademy provides expert-developed online training for senior home care professionals. Hour-long video courses, which can be accessed on any mobile device, cover critical topics such as infection control, nutrition and meal preparation, dementia, fall prevention, and safe transfers. The company provides 24/7 English and Spanish language technical support to accommodate over 18,000 caregivers' schedules. Currently, home care agencies nationwide rely on CareAcademy for the professional development of their employees and for meeting state certification requirements. Representative customers include CareLinx, Visiting Angels, and Home Instead.